Fruit and Vegetable Program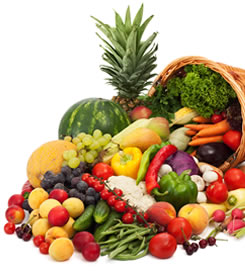 Make at least half of your plate Fruits and Vegetables!



Our Nutrition Services Department has implemented a fresh fruit and vegetable program to provide students with a wide variety of healthy fresh fruits and vegetables. This 2018-19 school year it is being offered at Alpine School, Antelope School, Lake Los Angeles School, and Daisy Gibson School. The purpose of the program is to increase fresh fruit and vegetable consumption in elementary schools and it has proven successful in introducing students to a variety of produce that they otherwise might not have had the opportunity to sample.
Please encourage your students to participate and benefit from this great program.

Eating a diet rich in fruits and vegetables will help to keep you healthy in so many ways. Try and choose more vegetables and fruits at home. Go for color and variety—dark green, yellow, orange, and red.

School meals include fruits and vegetables with every serving and most people should aim for at least nine servings (at least 4½ cups) of vegetables and fruits a day, and potatoes don't count. Go for a variety of types and colors of produce, to give your body the mix of nutrients it needs. Some of the best choices are dark leafy greens, cooked tomatoes, and anything that's a rich yellow, orange, or red color.
Most fruits and vegetables are naturally low in fat, sodium and calories, and none have cholesterol. Fruits and vegetables are important sources of many nutrients, including potassium, dietary fiber, folate, vitamin A, and vitamin C. The health benefits of a diet rich in vegetables and fruits is clear: they help to reduce risk for heart disease, they may help to protect against certain types of cancers, reduce the risk of obesity, and type 2 diabetes.